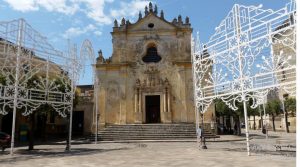 Certainly  worth  the visits are  the picturesque and authentic villages of southern Salento, which dot  the Leuca Cape,  the territory where BioMasseria Santa Lucia is located.
Well  known are the towns of Specchia  listed among the "most beautiful villages in Italy", Alessano with its narrow roads in which to get lost with the nose upwards, to admire the balconies and portals in  Baroque style carved stones, Piazza Castello  and Palazzo   Ducale, Presicce offering an underground visit to the vast oil mills used in the old days, when men passed their lives among animals , olives and the production of oil.
A visit to Patù and to Morciano di Leuca make the calendar go back 50-year because of their  ancient atmosphere .
Each village has typical shops and craftsmen at work:
In Specchia there are works made of  iron, in Alessano ancient weaving, in Presicce and Acquarica the workmanship of the reed and in Lucugnano and Tricase , near Alessano, the art of ceramics flouresches.